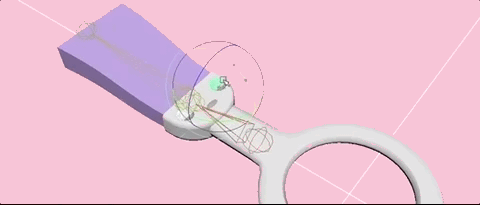 VR Paintbrush
One of the key creation tools in the Normal VR social chat enviroment is the ability to draw + paint with 3D ribbons. It was my job to design the look and feel of the brush, model it in 3D, rig the brush for animation when in use, and finally to test and debug the usability of the tool in close collaboration with the developer.
VR Keyboard
This opensource VR keyboard was created as a tool for the VR community to use as a basis for text input within VR experiences. The look at feel is minimal but visually striking and cohesive with the NormalVR chat space.
Learn more about the project on NormalVR's blog post.

Additional3D Tools + Assets
Other tools I designed and prototyped include a music remote for the in-game boombox, a selfie stick for taking photos with your friends within the NormalVR space.
I also created additional assets + environments for the NormalVR universe.